life via instagram {No.2}
11:51 AM
Hi! here are my week's candids captured via instagram, linking up with
Life Rearranged blog
for InstaFriday :)
1. morning sunshine, day off of the cubicle means day ON for Mano y Metal
//
2. family portrait- note uncooperative child
//
3. my friend posted this on fb and I had to share it- cracked me up - i used to think this of my mom growing up
//
4. a Custom Money Clip i worked on this week- it's all about that personality! shipped to NewYork
//
5. my momma, me as a baby and my grandpa -- no wonder I always wanna wear flowers in my hair, grew up seeing my momz stylin' em'
//
6. saw my niece on mothers day with her lopsided pigtails that look like waterfalls!
//
7. my momma's calligraphy skills that she drew on mine and my sisters m-day cards, I wanna learn to write like this!
//
8. bored with veggie trays?
//
9. a custom order of matching rings for a couple in New York I made... we.oui.love
//
10. why o why is this always the case?!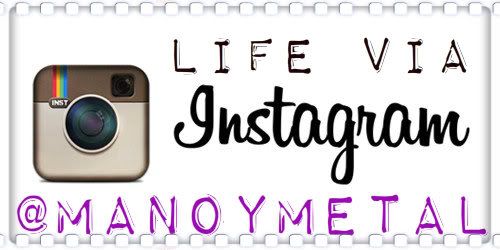 Whatcha got planned for this weekend? <3