Pitchfork & eff-bomb explosion(s)
9:00 AM
Has it been over a month already?! Over a month since I vended Pitchfork Music festival-- & wait is summer over in a few days? eeek! Well, Pitchfork was so much fun, here is the vendor recap! :) It was three days Friday+Saturday+Sunday that were full of hauling ass inventory, setting up, breaking down and vending 10-12hrs each day! Weather: RAIN! Can you believe it? I am talking about THUNDER STORMS on & off on Friday & Saturday... and then the weather cut it out and behaved on Sunday :) So here is some of the photos we took on our three-day vending adventure! Forgive the quality all the pics as they were taken on my iphone! :)
It rained and rained and thundered & stormed! Luckily, another vendor who was positioned in the middle of our GIANT tent we were under was so nice to lend us their tarp and so we had shelter! I was on the edge of the tent.. so when the rain storms hit, that tarp saved: me, my products and my sanity. :)
Thankfully my BFF weathered the storm with me (very literally) as my booth roadie! She helped me the
E-N-T-I-R-E weekend
, yep! all three days she vended with me!
THANK YOU MAYRA!
She thought of all the things I didn't think of: like packing a cooler and bringing us snacks, packing us beverages, paper-towels, and so on, cause I sure forgot all those details... I guess I was just planning on starving, dehydrating & having dirty hands all weekend. ;p so thankfully, Mayra had my back :) She even packed MY FAVORITES! Flamin Hot Cheetos! Nutella to go! (I didn't even know a "to-go" version existed!) & I guess this is a good time to confess that I LOVE Caprisuns... it's one of my fav sugary drinks and I can be found at kids birthday parties snatching them from the cooler every chance I get. And well, Mayra knows this so she brought along the best snacks for us to indulge on while vending our butts off! :)
I am using a new display to feature my single band & double finger rings and it is working well! I wanted to elevate the rings so that they were easy to read while customers browsed my table, but still keep them organized and easy to keep track of.. and I think I will stick to this display for the rings.. (I am still searching for the "just-right" display so I go through a lot of display ideas/try-outs)
Speaking of displays, my bike tire necklace display never fails me, I go back and fourth sometimes about using it since it takes up a lot of table space but everytime I bring it out. it gets all types of love & attention. I like the functionality of it being able to twirl so give people the option of viewing all the necklaces.. so I am almost there... on this finding the "right" display journey :)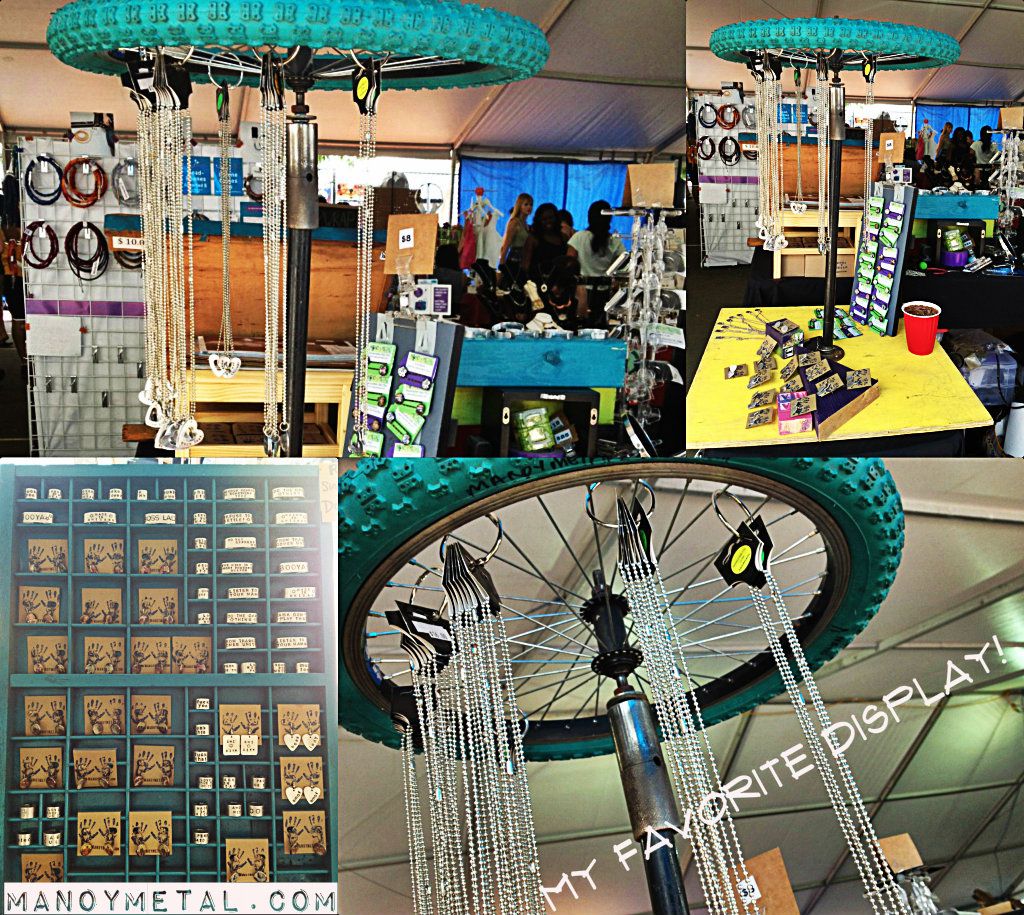 At the end of Friday we were so exhausted, it was around a 14hr day... since we met up at 9am and didn't get home from the fest until around 11pm... my feet ached and I was so tired, there was no stopping me from falling asleep the moment I got home.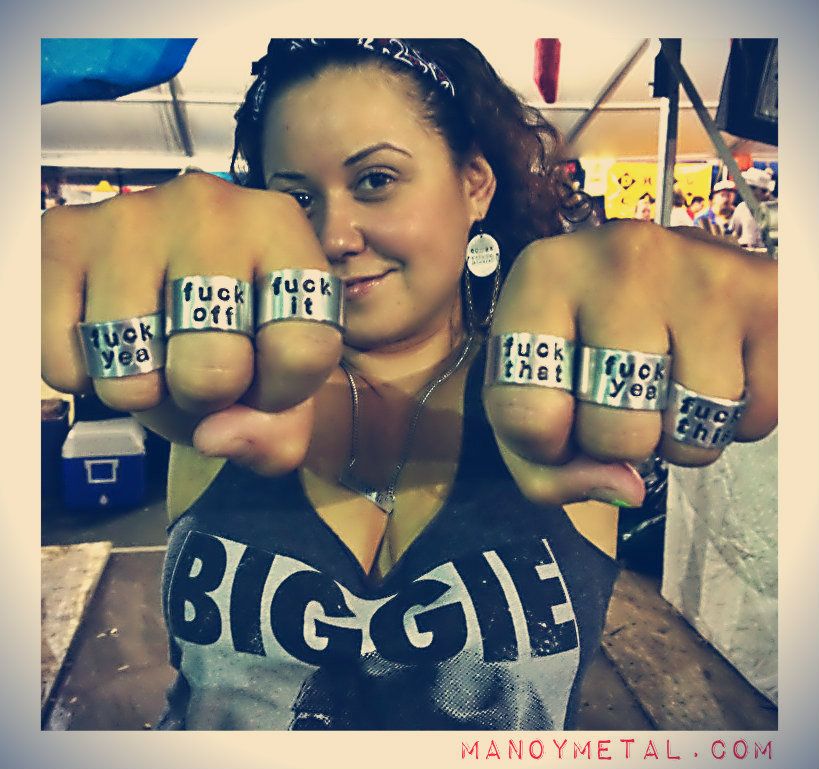 So, you know how I sell the
Eff-Bomb necklaces
? Well, some music festival attendees asked if I could make some Eff-Bomb rings! So, I woke up early on Saturday and cranked these out! They were really fun to wear & play around with and they sold out at the fest :) Here is some instagram love from two ladies who tagged me wearing their rings!
(on instagram? find me! @manoymetal or #manoymetal )
how Sah-weet! I love seeing customer pictures of people stylin' their
Mano y Metal
pieces! So while the single band eff-bomb rings were a hit, another Pitchfork attendee requested
eff-bomb double-finger rings
... so they hit the shop about a week ago!
 Pitchfork is officially responsible for the eff-bomb explosion of this blog post & on
my etsy shop
:)
For those who aren't familiar, a "michelada" is prepared with a beer of your choice, add some tomato juice, lime, salt, hot sauce & tons of ice and you got yourself a michelada! It's like the cousin to a Bloody Mary in the "it's ok to drink this before noon" alcoholic beverage family. :)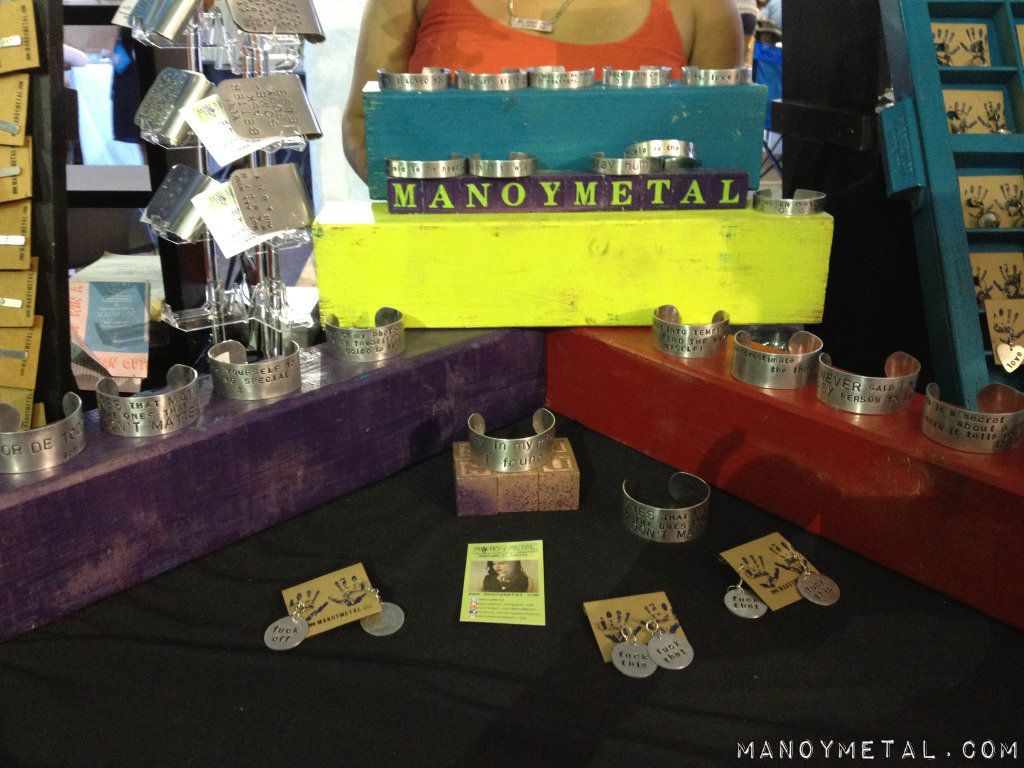 Sunday was by far the busiest day of the weekend! My logic is because people know it's the last day to snag what they have been eye-ballin' all weekend! It's the "now-or-never" state of mind and we were happily swamped on Sunday! :) I also got to see tons of my friends over the weekend and this cutie pie pictured below was with his mother and staying cool with a squirt of a water gun. So cute! Also, genius as I totally needed a water gun or water spritzer or something to stay cool in the heat wave.
I wouldn't of survived without my friend Mayra picking me up each morning of the festival and helping me set up then vending with me all day and then helping me pack up each night. Seriously, I am spoiled to have such a good friend like her! And although it was terribly exhausting, having a friend to hang out with all day made it oh-so-fun! Thank you Mayra! Love you so much! <3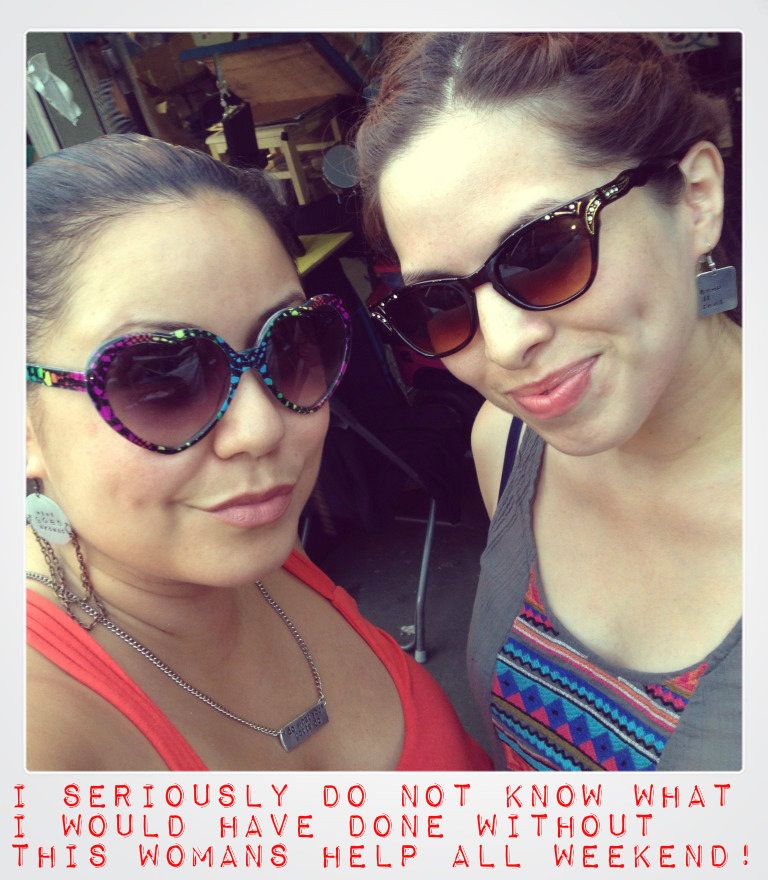 And that was Pitchfork in a nutshell! :) It was a great three day festival!!!! Every show I vend at, I learn more and more about how to make vending run smoother the next time... hopefully I eventually get to the point where I don't stress & stay up all night the day making last minute changes, inventory and planning. One day, I hope to be able to sleep a full 8hrs before a craft show and not worry... one day! :)
So honestly, are you ready for summer to end & fall to begin?
♥Thanks for stopping by today!
♥